CCEME Changsha ended successfully
2020-09-09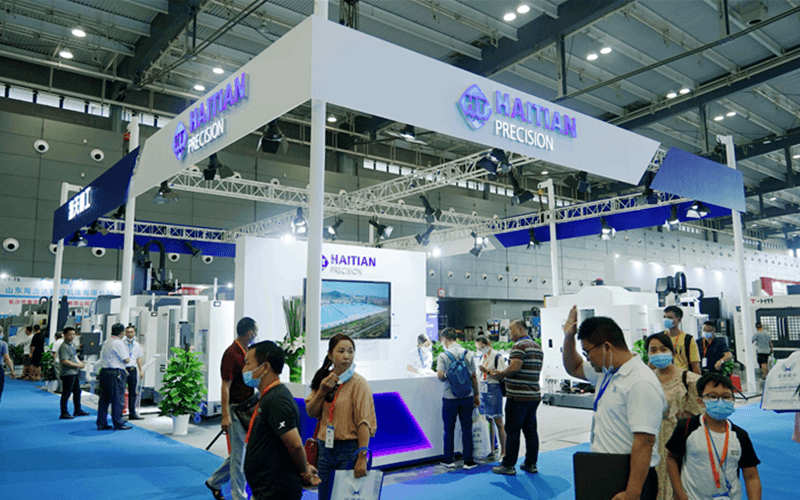 The 2020 Central China Equipment Manufacturing Exposition (CCEME Changsha) held for threes days from August 20 to 22 ended successfully in Changsha International Convention and Exhibition Center. As a large-scale and influential machinery industry exhibition in Hunan and central China, CCEME Changsha provides a platform for enterprises of industrial manufacturing equipment and intelligent manufacturing equipment to exchange industry information, promote brand and expand business. This exhibition covered an area of 40,000 m2, attracting over 50,000 professional visitors, and the scale hit a new high.
Haitian Precision displayed five popular models, including VMC850Ⅱ vertical machining center, VMC1000Ⅱ vertical machining center, CFV1100 vertical machining center, TC25Ⅱ CNC lathe and GUe5Ⅱ gantry vertical machining center. The on-site trial cutting was carried out, which attracted numerous visitors to inquire and purchase. More than 10 machines were sold in this exhibition, with a sales volume of nearly RMB 10 million yuan, and many prospective customers were explored. The generous booth, excellent equipment and professional service received praise from peer friends and new and old customers.
In recent years, the modern manufacturing industry in Hunan has continued to improve, and the development of advanced rail transit equipment has accelerated. The "five potential fields" of engineering machinery are competing to develop. The automobile parts and new energy have broad prospects. The models launched by Haitian Precision meet the market requirements of Hunan and have been highly recognized by customers. Especially, the gantry machining center has obtained good achievements. In future, Haitian Precision will continuously promote intelligent upgrading and provide more excellent equipment for customers.