Focusing on precision and intelligent manufacturing, Haitian Precision presented remarkable achievements in the Pearl River Delta region
2020-09-10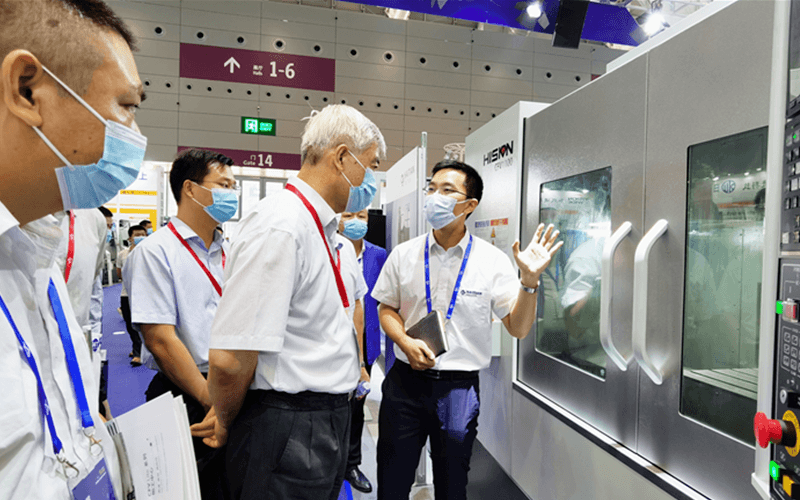 This summer, both the 21st Shenzhen International Machinery Manufacturing Industry Exhibition and the 3rd 5G Terminal Processing Industry Chain Exhibition were held in Guangdong. Haitian Precision displayed its high-quality machine tools in the Pearl River Delta region, providing new and extraordinary experience for local customers. If not coming to the scene in person, let's feel the lively atmosphere through the introduction below!
The 21st Shenzhen International Machinery Manufacturing Industry Exhibition was held grandly in Shenzhen World Exhibition & Convention Center from September 1 to 4. With "5G drive and medical enpowerment" as the theme, this exhibition directly presents the launch and application of intelligent manufacturing in an all-round manner. The super-large 340 m2 booth of Haitian Precision made a momentous appearance, providing a communication platform for local customers to experience Haitian Precision's high-quality products and services at close range.
Haitian Precision displayed seven products, including VMC850Ⅱ/ VMC1200Ⅱ vertical machining center, CFV1000/ CFV1100 vertical machining center, HTC150Ⅱ CNC lathe, BEL2030 high-speed machining center and GLUe13X16 gantry machining center. The milling solutions in many fields, such as automobile, mold and 5G, etc. were displayed on site. The excellent product performance of Haitian Precision and the professional explanation of staff left a deep impression on customers and obtained high praise.
On the 3rd 5G Terminal Processing Industry Chain Exhibition held in Dongguan, CFV series machine tool displayed by Haitian Precision yielded unusually brilliant results. This machine tool is specially designed for 5G market, and configured with Haitian Precision's 5G special motorized spindle at 18,000 rpm. It has the characteristics of high speed and high precision, and only takes 0.2s to start and stop at 0-6,000 rpm. It is equipped with 20 manipulator servo tool changers and only takes 0.8s to set the tool. With the characteristics of high efficiency and fast speed, it provides a perfect solution and can be effectively applied to multi-channel cavity filters and other fields.
With the rapid development of 5G industry and intelligent manufacturing field, Haitian Precision has made in-depth layout in terms of professional team, core technology and focus market. Relying on the demand of intelligent hardware processing industry, it is committed to upgrading supporting products and technologies, and manufacturing products that satisfy customers. Look forward to the next meeting!