Yuan Jiajun, Deputy Secretary of the CPC Zhejiang Provincial Committee and Governor of Zhejiang Province, investigated Haitian
2020-04-10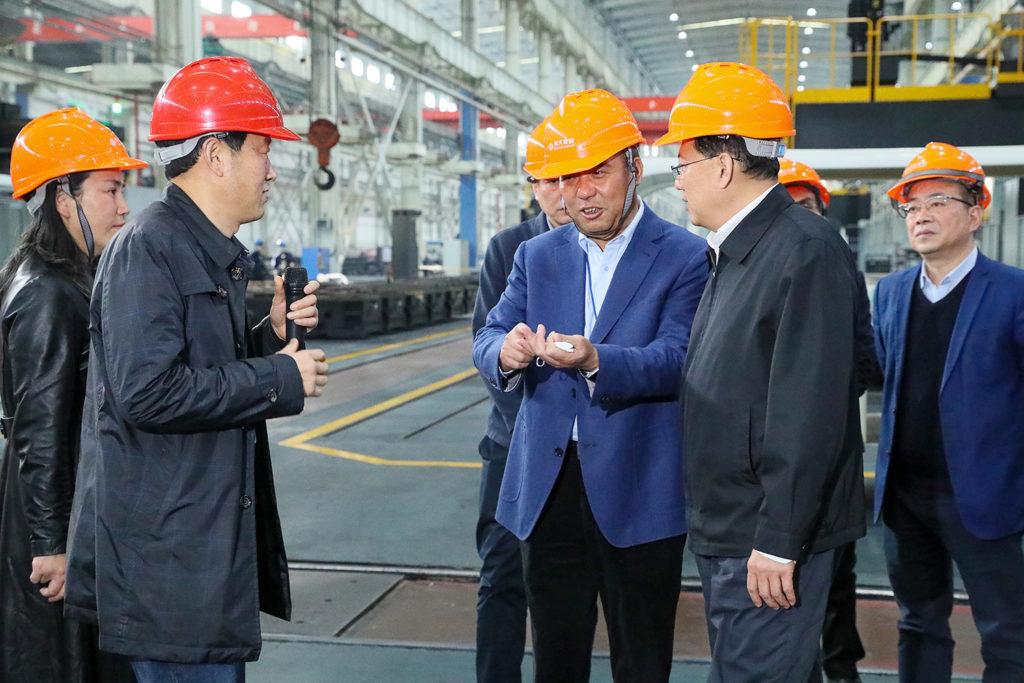 On the afternoon of April 8, Yuan Jiajun, Deputy Secretary of the CPC Zhejiang Provincial Committee and Governor of Zhejiang Province, led leaders of relevant departments to visit Haitian for investigation. Zhang Jingzhang, Chairman of the Group, Zhang Jianming, President and Secretary of the Party committee of the Group, and Zhang Jianfeng, President of Haitian Plastics Machinery warmly received Governor Yuan and his delegation.
President Zhang Jianming first introduced the development process, industrial distribution, production and operation of Haitian to the visiting leaders. Then, Governor Yuan and his delegation visited the production workshop of Business Department of Haitian Plastics Machinery and Haitian Precision respectively, listened to the report on the "8 + 16" intelligent manufacturing mode of Haitian Plastics Machinery and the high-end processing equipment independently developed by Haitian Precision to break the monopoly of foreign technology and had in-depth exchanges with Chairman Zhang Jingzhang and President Zhang Jianming on the market prospect of high-end CNC machine tools and die-casting machines.
In Haitian Precision's production workshop, the delegation mainly watched and understood the special high-speed gantry moving column machining center for BEL/BFL structural parts and KMUF high-speed gantry machining center. BEL/BFL machine tools have independent intellectual property rights, which are suitable for high-end equipment in important fields such as new energy vehicles, molds, etc., and have important strategic significance for improving China's industrial level. KMUF machine tools have mature technology application accumulation and are suitable for national key industries such as  high-speed rail, etc.
Governor Yuan highly affirmed Haitian Group's vertical diversified strategic layout of "industry related and common development" and its grand goal and mission of "equipping China and the world with equipment". He stressed that Haitian should continue to firmly follow the path of independent innovation and development, strengthen the construction of intelligent manufacturing, enhance the core competitiveness of Haitian, and make unremitting efforts to promote the transformation and upgrading of new energy vehicles, molds and other important areas of manufacturing industry to high-end. At the same time, Governor Yuan encouraged Haitian to firmly grasp the new round of development opportunities in the "post epidemic period", aim at the world's cutting-edge technology, gradually get rid of the dependence on imported equipment, accelerate the "localization substitution" of equipment manufacturing industry, and play a greater role in the realization of independent and controllable industrial system.
Zheng Shanjie, Deputy Secretary of Zhejiang Provincial Party Committee and Secretary of Ningbo Municipal Party Committee, Hu Kui, Deputy Director of Zhejiang Development and Reform Commission, Qiu Dongyao, Deputy Secretary and Mayor of Ningbo Municipal Party committee, and Liang Qun, Member of Standing Committee of Ningbo Municipal Party Committee and Secretary of Beilun District Party Committee, accompanied during the investigation.