Haitian Precision Listed on Shanghai Stock Exchange
2016-01-23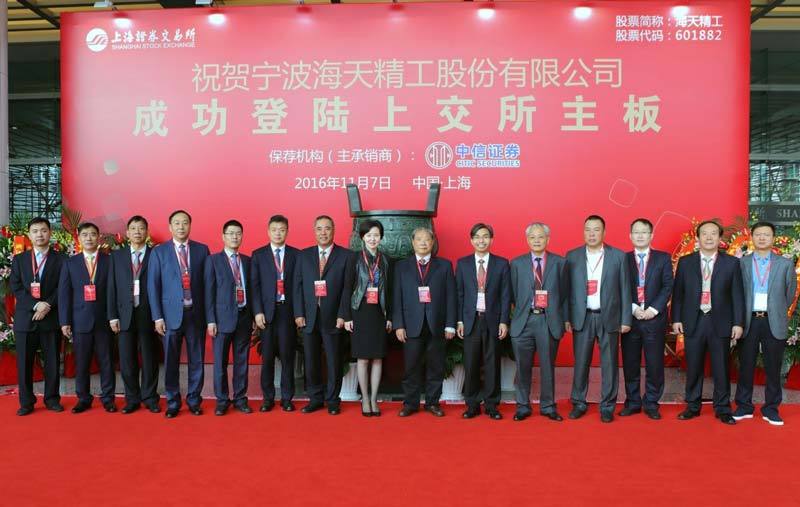 Ningbo Haitian Precision Machinery Co., Ltd. (Haitian Precision for short) was formally listed on the Shanghai Stock Exchange on 7th November with the stock code 601882, the second major business of Haitian Group launches China's capital market After the successful listing of Haitian International on Hong Kong Stock Exchange in 2006.
At the listing ceremony held on the morning of the 7th, Mr. Zhang Jingzhang, Chairman of Haitian Group, Mr. Jin Jianhua, Managing Director of CITIC Securities Investment Bank Management Committee and Mr. Hu Kui, Deputy Secretary and Chief Executive of Beilun District made speeches, highly appreciated Haitian Precision for its achievements and expressed their great expectations for the company in the future. Mr. Huang Hongyuan, the general manager, Mr. Xie Wei, the deputy general manager and other members of the management of the Shanghai Stock Exchange were present to express their congratulations. At 9:30 am, Ms. Yao Beijun, deputy secretary-general of Ningbo municipality and director of Ningbo Finance Office, together knocked the gong for the listing of Haitian Precision, and the share surged to the daily trading limit at 2.16RMB.
Zhang Jingzhang expressed his gratitude to all the friends for their support to Haitian Precision at the appreciation banquet on the evening of the 6th. Mr. Wang Liming, Executive Vice-Chairman of China Machine Tool Industry Association, highly appreciated the important position of the company in the industry. Mr. Wang Huanwei, General Manager of Haitian Precision, expounded the direction of the company in the future.
Haitian Precision's listing is a very strategic step in the development process of the Group. Haitian Precision will take this opportunity to adhere to the strategy of "industry-related and common development", improve the management level, strengthen technological innovation, continuously consolidate and enhance the core competitiveness of the company, and contribute to the national industry with more outstanding products.