Haitian Precision and Xinyuda Group signed a strategic cooperation agreement
2021-04-22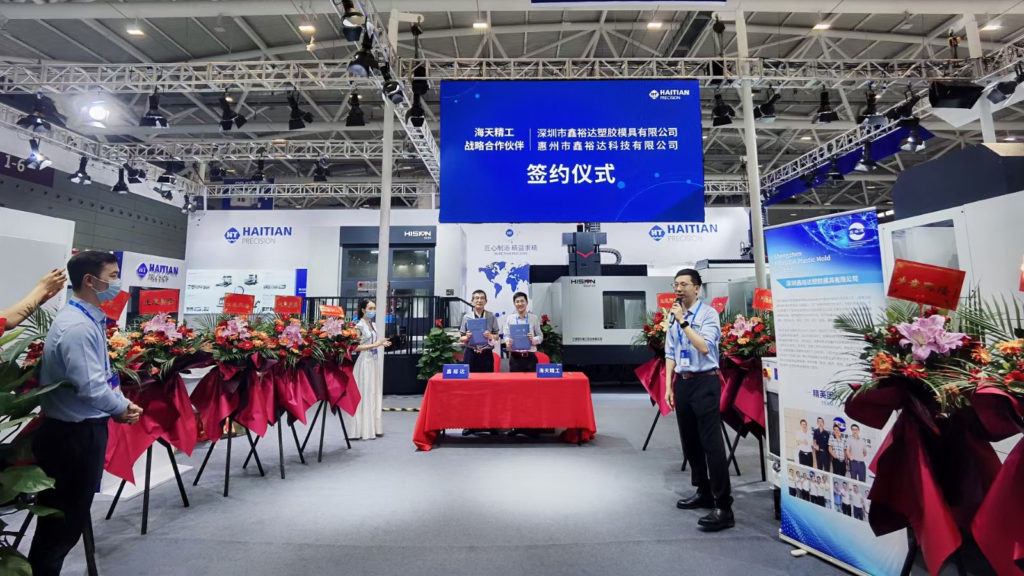 Recently, Haitian Precision and Xinyuda Group signed a strategic cooperation agreement. Zhang Hao, Director Assistant of Haitian Precision Marketing Center and Wang Yaojing, Chairman of Xinyuda Group signed a strategic cooperation agreement with at the Shenzhen Industrial Exhibition on behalf of Haitian Precision and Xinyuda Group respectively. According to the agreement, both parties will not only work closely together to create a win-win and sustainable development path, but also will further develop and innovate in the industry to meet diversified market demands. Haitian Precision will also give priority to responding in terms of machine tool supporting, after-sales service, and industry applications.
Xinyuda Group, founded in 1999 and headquartered in Longhua New District, Shenzhen, is mainly engaged in the injection molding of plastic products, as well as the design, development and manufacturing of high-precision molds. In addition, Xinyuda Group is a supplier of well-known brands such as Xiaomi, Skyworth, Konka, Changhong and MTC.
With more than 100 medium and large tonnage Haitian plastics machineries, Xinyuda has rich experience in mold processing. Of course, the manufacture of precision mold is inseparable from high-precision machining machine. In 2019, Xinyuda purchased the first Haitian Precision high-speed gantry machining center. Its high efficiency, high precision, energy saving and pleasant characteristics make the mold processing more powerful. This year, Xinyuda Group expanded the production scale of Shenzhen factory and invested in a new factory in Huizhou. After many times of inspection and verification, Haitian Precision's high-quality equipment and excellent use experience have won the trust of Xinyuda, so both parties have reached in-depth cooperation.
The signing of this strategic cooperation agreement will not only further deepen the cooperation between the two parties, but will also promote a new round of technological innovation in the industry. In the future, Haitian Precision will continue to take advantage of the industry leader to provide higher-quality CNC machine tools for China and the world.